HORSEDONKEY
---
Just what is it that makes today's Horsedonkey so diverse, so accessible?
A hybrid production company supporting the creation and hosting of new work in contemporary performance, we organise strange variety nights and aim to realise a three-ring circus concept.
The Horsedonkey Club is our current flagship project, "strange variety nights" organised as the context for a surprising mix of performing artists and artists who use performance. From acts to actions, scratch to polished, a combination of live performance and sound work.

Inspiring the Horsedonkey vision are the post-Grotowski performance powerhouse that is Magda Tuka, the theatrical live art force of nature, Agni Kapuścińska, and former Bobs Cabaret host and Psychological Art Circus ringmaster, Jack Pixley.
All three are veterans of the interwoven alternative art scenes of London since the turn of the century. Their work, mostly not with one another nor alike in form and content, has been presented professionally across England, Europe, East Asia, North and South America.
Small print set in the same size font as the main content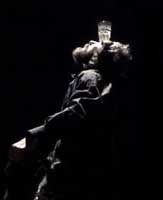 Horsedonkey is a company ltd by guarantee registered in England and Wales with charitable objects, reg'd no.9933297. The company was a producer of 1923.webcam at the Museum of Contemporary Art Metelkova in 2018 and supported 2019 Doctrine of Sound® field research to the Monastery of Miramar.
Text and images © 2005/22 All rights reserved. Background photo by Iris Pixley. Inset images by M. Stawman, A&D Living Arts, and Marta Angelozzi.